All winning projects at the conference are featured in the CTBUH's Annual Skyscrapers Publication. Due to the number of winning project's this year, they are split between Volume 3 and Volume 4.
These books explore the projects, technologies, and approaches currently reshaping skylines and urban spaces worldwide. Innovations in the constituent disciplines that bring tall buildings to life, and even extend their lives—construction, the engineering of façades, fire & risk, geotechnical engineering, interior space, MEP, renovation, and structural engineering—are all explored.
Purchase Volume 3 and Pre-Order Volume 4 when you register for the conference!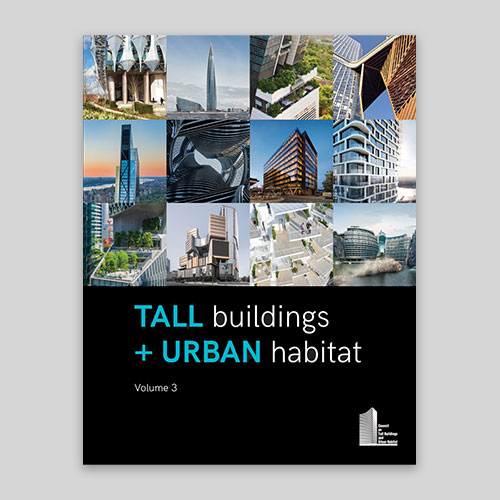 Tall Buildings + Urban Habitat, Vol. 3
US$60 (non-member)*
Winning Projects Featured in Volume 3
18 Robinson, Singapore
25 King, Sydney
53 West 53, New York
271 Spring Street, Melbourne
500 Folsom, San Fransisco
AND Pastel, Istanbul
ARC by Crown Group, Sydney
ARO, New York City
Assuta Village, Tel Aviv
Brunel Building, London
Burj Khalifa, Dubai
Changsha Hua Center, Beijing
Chapultepec Uno R-509, Mexico City
CITIC Tower, Beijing
Claridge Hotel, London
Collins House, Melbourne
Comcast Technology Center, Philadelphia
DaiyaGate Ikebukuro, Tokyo
DUO, Singapore
EDEN, Singapore
FIVE Jumeirah Village, Dubai
Gala Ave West Side (Lujiazui Plot 2E2-3), Shanghai
Guangzhou International Finance Center, Guangzhou
Hanwha Headquarters, Seoul
Hudson Commons, New York City
Hudson Yards – Eastern Yards, New York City
International Commerce Centre, Hong Kong
K11 ATELIER King's Road, Hong Kong
Lakhta Center, St. Petersburg
Leeza SOHO, Beijing
LondonHouse, Chicago
L'Oréal Headquarters, Düsseldorf
Maike Centre, Xi'an
Marina Bay Sands, Singapore
Mjøstårnet, Brumunddal
Museum Tower Kyobashi, Nagoya
NEMA Chicago, Chicago
o-14, Dubai
OMNITURM, Frankfurt
One Excellence (One excegroup Finance Center), Shenzhen
One Thousand Museum, Miami
PIF Tower, Riyadh
Poly Greenland Plaza, Shanghai
Poly Pazhou, Guangzhou
Pudong Financial Plaza, Shanghai
Raffles City Chongqing, Chongqing
River City 3, Toronto
Rosewood Bangkok Hotel, Bangkok
Sixty Martin Place, Sydney
Sumitomo Fudosan Roppongi Grand Tower, Tokyo
Suzhou IFS, Suzhou
The Clement Canopy, Singapore
The Exchange 106, Kuala Lumpur
Tianjin CTF Finance Centre, Tianjin
Torre Glorieta Insurgentes, Mexico City
U.S. Embassy, London, London
UTS Central, Sydney
Victoria Dockside, Hong Kong
White Tree, Montpellier
Zhuhai St. Regis Hotel & Office Tower, Zhuhai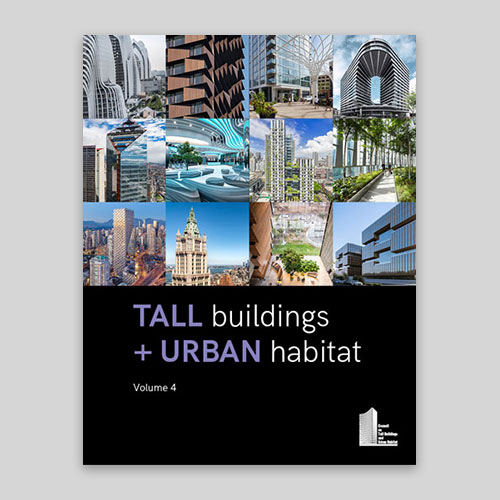 Tall Buildings + Urban Habitat, Vol. 4
US$60 (non-member)*
Winning Projects Featured in Volume 4
1 Bligh Street, Sydney
100 Bishopsgate, London
110 North Wacker, Chicago
18 Robinson, Singapore
35 Hudson Yards, New York City
80 Collins Street, Melbourne
African Union Headquarters and Conference Complex, Ethiopia
Al Hamra Tower, Kuwait
Arlozorov 17, Tel Aviv
Asia Financial Center & AIIB Headquarters, Beijing
Atrio – North Tower, Bogata
Cardero, Vancouver
Central Park Tower, New York City
CITIC Tower, Beijing
DaiyaGate Ikebukuro, Tokyo
Daphne Cockwell Health Sciences Complex, Toronto
Darling Square, Sydney
Hanking Center, Shenzhen
Hengqin International Finance Center, Zhuhai
Hourglass, Amsterdam
Hybrid Tower, Shenzhen
ICD Brookfield Place, Dubai
Infinity, Syndey
Jumeirah Gate, Dubai
Lincoln Common, Chicago
Mira, San Fransisco
Museum Tower Kyobashi, Tokyo
NBF Osaki Building, Tokyo
Newfoundland, London
Nordbro, Copenhagan
One Barangaroo, Sydney
One Manhattan West, New York City
Raffles City Chongqing, Chongqing
Rainier Square Tower, Seattle
Renovation Laboratory Necker, Paris
Shimao Qianhai Center, Shenzhen
Shinjuku Sumitomo Building Re-Innovation Project, Tokyo
SHUIBEI International Center, Shenzhen
Siamese Exlusive 31, Bangkok
Sky Green, Taichung
Skyline Tower, New York City
Taipei Nanshan Plaza, Taipei
Telus Sky, Calgary
The Exchange 106, Kuala Lumpur
The Independent, Austin
The Okura Tokyo Prestige Tower, Tokyo
The Residences of 488 University Avenue, Toronto
The Warsaw HUB, Warsaw
The Woolworth Tower Residences, New York City
ToHA Tower 1, Tel Aviv
Tour Saint-Gobain, Paris
Trinity, Puteaux
Vancouver House, Vancouver
Walan, Brisbane
Wuhan Center, Wuhan
*CTBUH Member Discounts Applied at Checkout:
Platinum = 25% off   |   Gold = 20% off   |   Silver = 15% off   |   Individual = 10% off